Evernote is a versatile note-taking app that enables you to create notes that you can enrich with various types of media. But most of all, Evernote also allows you to easily search and organize your entries to help you work faster!
Now, to help you get up to speed with Evernote, I've listed here its major functions and capabilities that can seriously help you in your work:
In Evernote, notes are no longer limited to just simple text. Instead, Evernote can allow you to create different kinds of notes: From your (1) basic notes, to (2) ink notes which you can draw and doodle on, (3) audio and/or webcam notes which allows you to directly record from Evernote's interface up to (4) screenshot notes which allows you to instantly add various annotations such as stamps, arrows and even the ability to pixelate portions of the screenshot.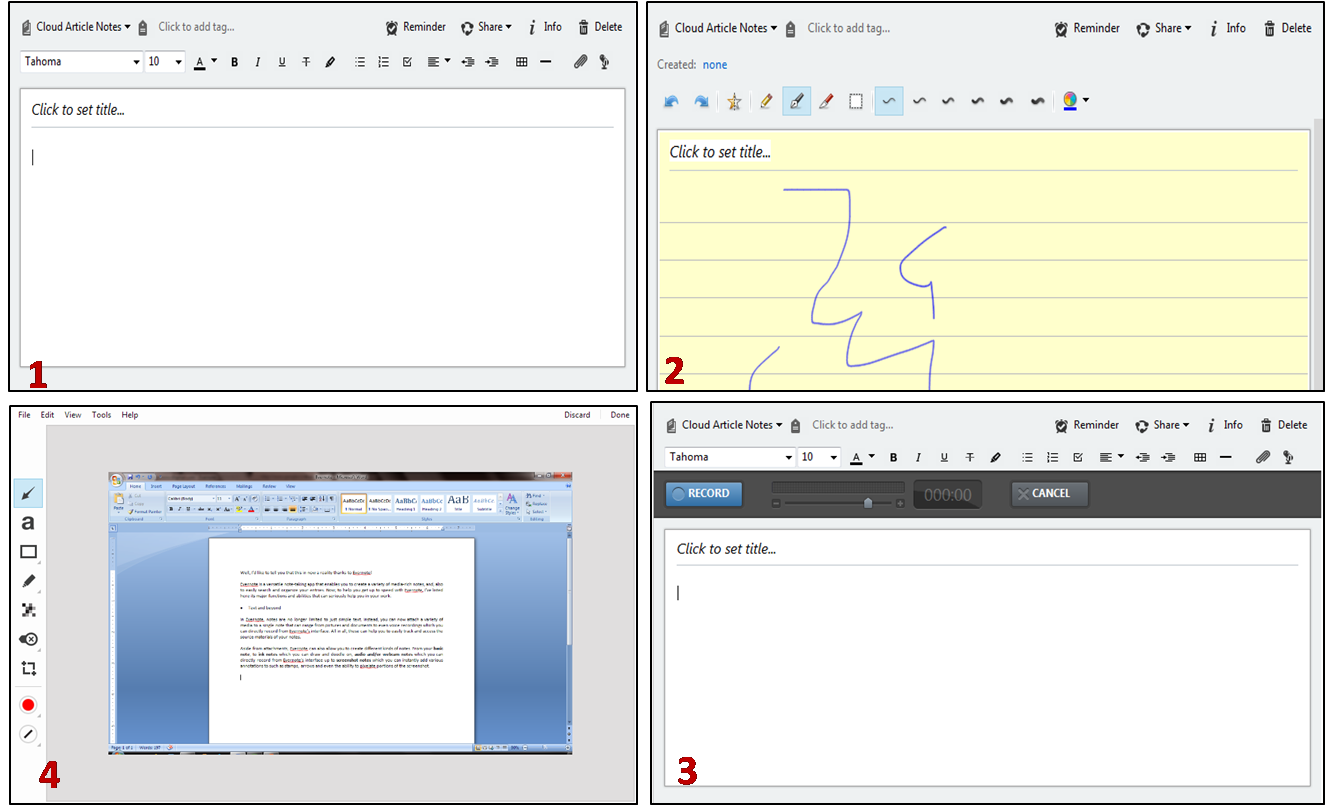 Introducing the Web Clipper
Like how we used to add newspaper or magazine clippings to our notebooks before, the web clipper virtually allows users to do the same but only with web pages. The web clipper is a free add on to your browser that can allow you to add various forms of web clippings to your notes, such as: (1) an Article, a mirror image of a particular portion of the website, (2) a Simplified Article, a text and image only version of the article or lastly, a (3) Bookmark, a direct link to the entire website including a brief introductory text and image. In addition to the three, you can also create clippings of entire webpages or take a screenshot of a particular portion of it.
Note: Web clipper is only available for Chrome, Safari, Firefox, Opera and Internet Explorer.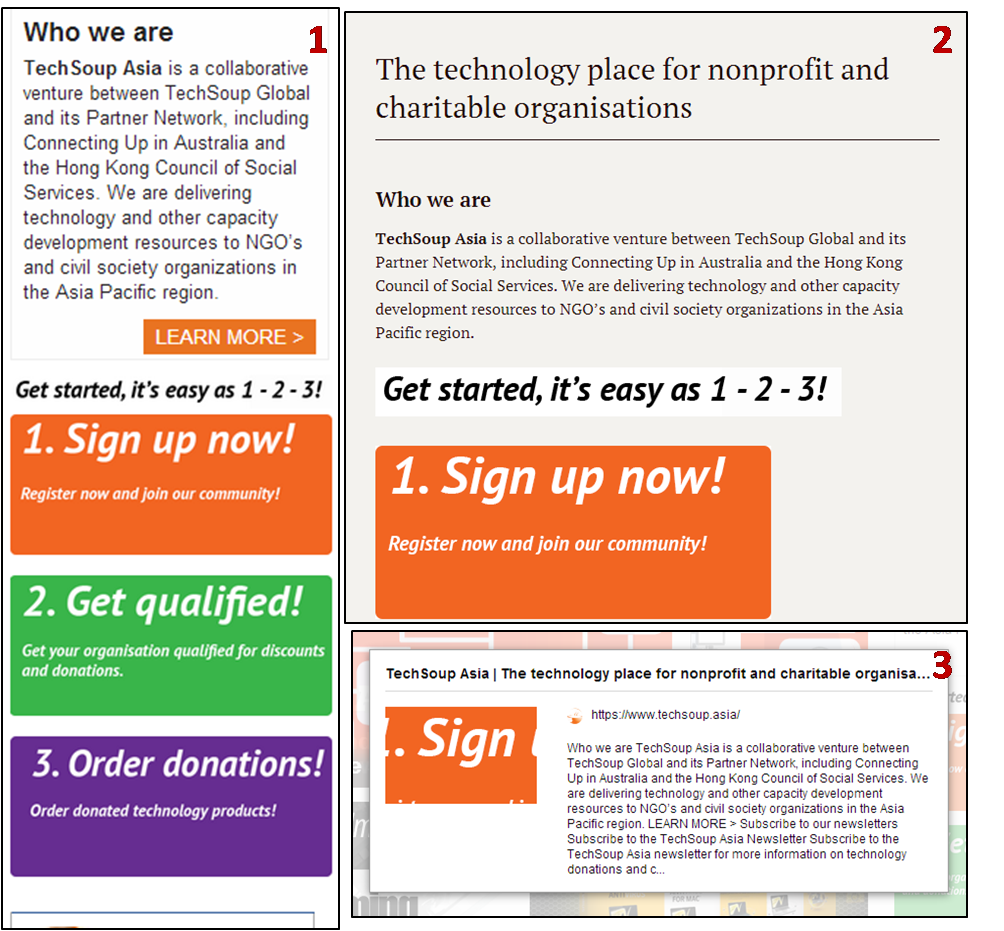 Multiple degrees of being organized
Evernote can help you to better manage your notes by allowing you to compile similar themed notes in notebooks. On the other hand, to help you better sift through those heaps of notes, Evernote also allows you to insert tags to each one, just like social media posts. Basically, these can all help you better organize your notes, which in return would also help you find specifc notes faster!
Bring your notes everywhere
Before, losing our notebooks/devices meant losing all of our work with it. But with Evernote, that isn't the case anymore! Evernote requires you to create an online account (either free or paid) in order for you to use it. Aside from serving as an online backup for your notes, the account also syncs your notes across multiple devices including mobiles, such as smartphones and tablets, to allow you to have constant access to your notes.
Note: The total file size you can upload per month, or your monthly Upload Quota, will vary based on your account (Free, Premium or Business).
Working with a group? Evernote also allows you to easily collaborate with your colleagues by allowing you to share your notes or even entire notebooks. You can do this through email, by providing a link or by sharing it via your Facebook, Twitter or even LinkedIn. On top of that, you can also modify their access to your notes/notebooks by providing them either view only, or, view and edit privileges.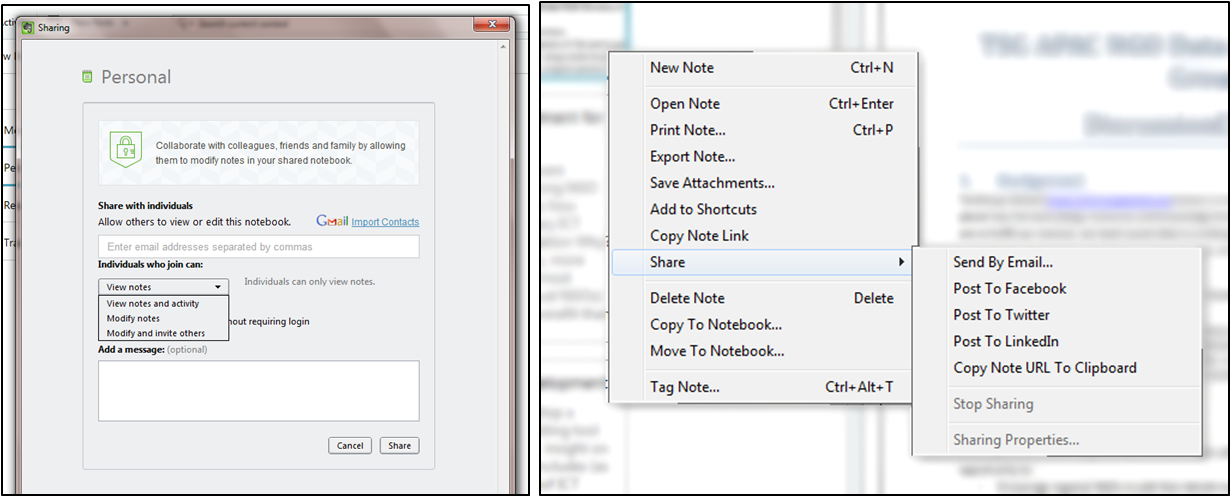 Do more with Evernote apps
Evernote can run side-by-side with other apps, allowing you to enhance your entire experience. Some good examples of collaborative apps include Scanbot. This app allows you to create PDF/JPEG formats of actual documents just by hovering your iPhone over them. Also, there's Pocket Informant, which can allow you to integrate your notes into a calendar. For more apps that can work with Evernote, just feel free to check their app center.
Sounds good?
So, let's do away with those notebooks and start saving trees, and money as well, by going digital!
You can get Evernote for free for your Windows, Windows mobile, Mac devices, Android devices and Blackberry. But for more features, you might want to check out their premium or business plans as well.
---
Not sure if Evernote's for you?
Here's TechSoup Global's Ginny Mies' article to help you assess which notetaking app is for you:
OneNote vs. Springpad vs. Evernote.